Our business hours are 10am to 4pm Mon thru Fri, closed weekends and holidays. Better Business Bureau A+ rating!
We are on the NE corner of 7th Ave & Fourth St, in the Cal Ranch Plaza, next door to the UPS Store.
Find us on Yelp!
Find us on Google
Please send us an email or give us a call if you have any general questions or requests about our services. We look forward to hearing from you!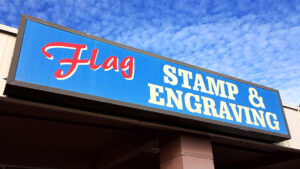 Email
orders@flagstampandengraving.com
Phone
928-526-2053
Address
2534 E. 7th Ave., Flagstaff, AZ 86004